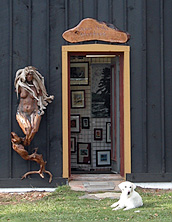 Each year Dunn Sohn Studio is host to different guest artists during the Perth Autumn Studio Tour.
The Tour is held each year on Thanksgiving Weekend, Saturday, Sunday and Monday, 10am to 5 pm. Admission is free.
Located within 25 kilometres of picturesque Perth, the Tour showcases one of Eastern Ontario's finest selections of contemporary fine arts and crafts against a backdrop of Mother Nature at her best.
The Perth Autumn Studio Tour is a very special showcase for contemporary fine crafts. In 1999 this extraordinary group of artisans was awarded a grant by the Ontario Arts Council in recognition of the high standard of work presented over the previous ten years. It was the only studio tour in Ontario to receive such an award.